Regular price
Sale price
CHF 13.00
Unit price
per
Sale
Sold out
Would you like to optimize your dog's grooming routine and buy a natural, certified dog shampoo? Bull's eye: DENCA IBIZA ALL NATURAL is a dog shampoo with three different flavors that is tailored to the needs of your dog.
View full details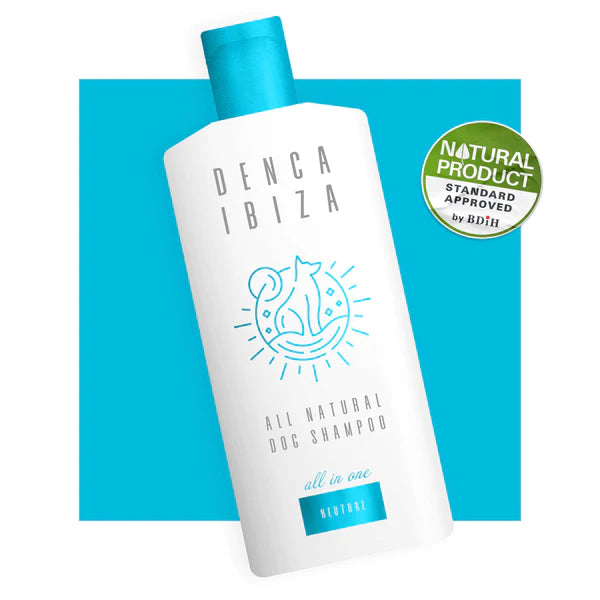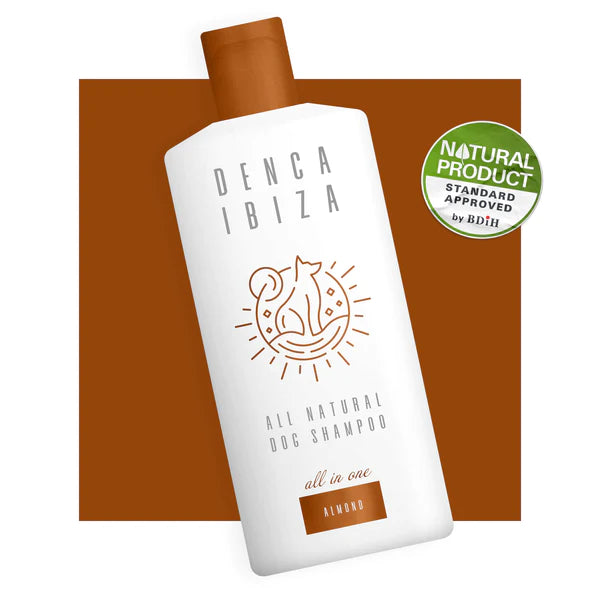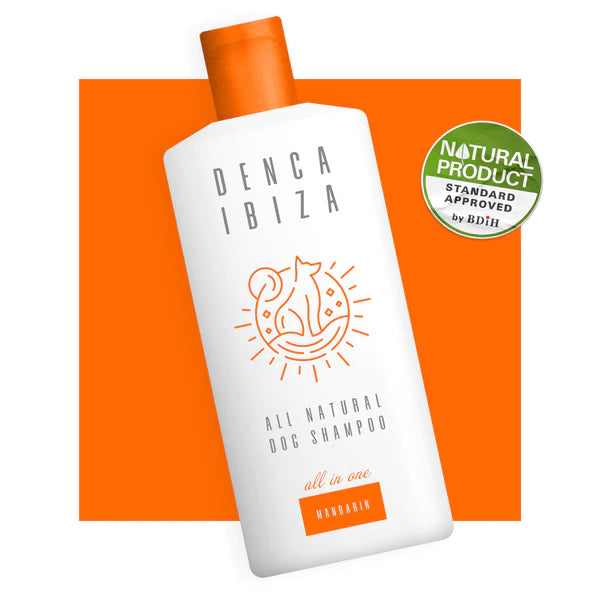 Your dog will love this shampoo
The well-being of your dog is important to us. With the Denca Ibiza All-Natural Shampoo you can be sure that you are buying a purely herbal dog shampoo .

It is made from the best certified ingredients . These carefully selected ingredients keep the skin healthy and give your dog's coat freshness and a silky shine. The pH of the shampoo is perfectly matched to the sensitive skin of dogs.

Give your furry friend a healthier and more enjoyable grooming experience!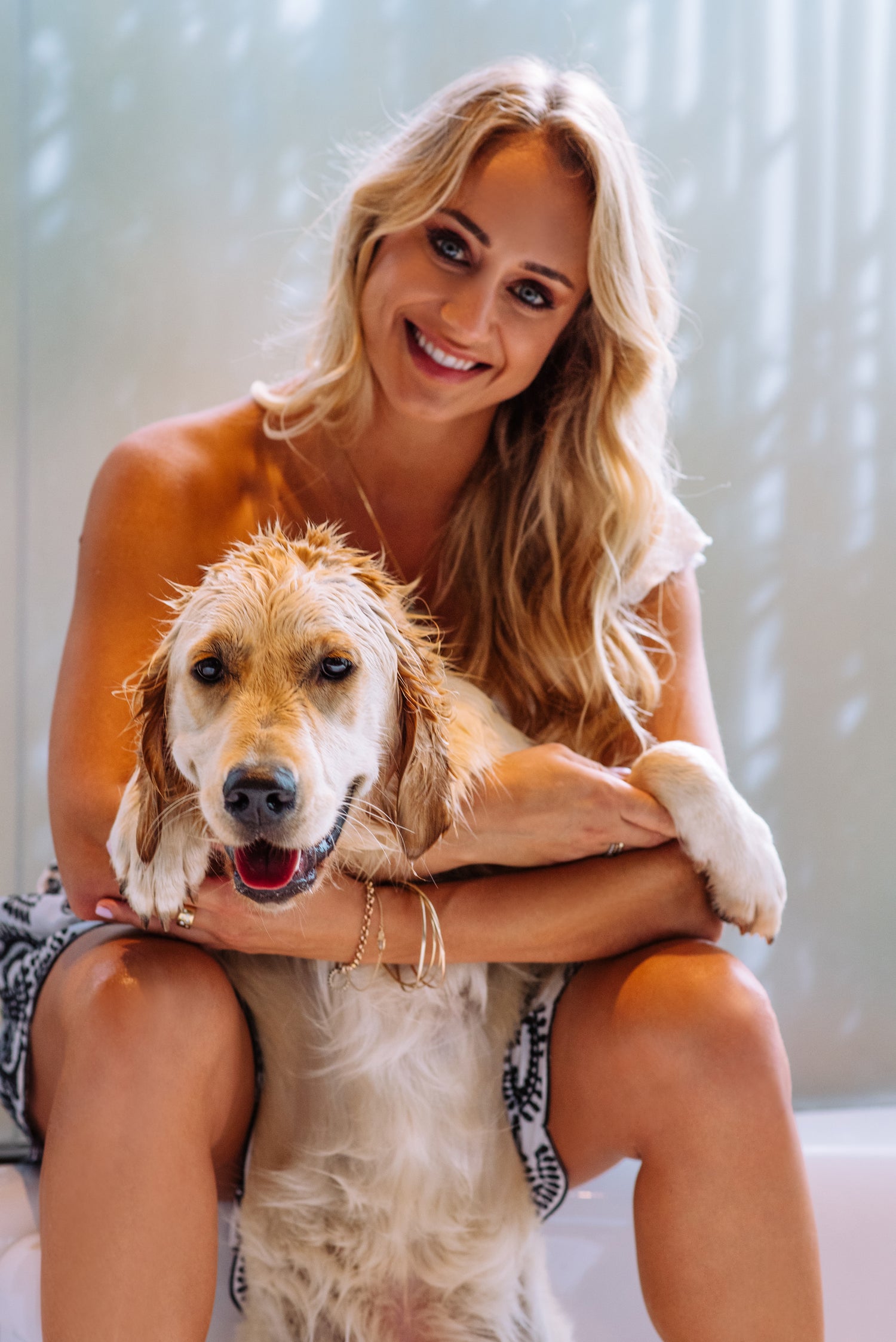 Buy DENCA IBIZA dog shampoo: These are your advantages
all-natural dog shampoo

with organic oils

natural coat care, free of dyes and silicones

with conditioning properties for a shiny and easy to comb coat

also suitable for sensitive dog skin

works against parasites

suitable for all dog breeds

also perfect for puppies
Vergleich: DENCA IBIZA vs. andere Hundeshampoos
DENCA IBIZA – 100% natürliches Hundeshampoo

hoch konzentriert
ergiebig
nachhaltig
Unterstützt bei Abwehr von Parasiten durch Neembaum-Öl
Hilft bei Juckreiz durch Hamamelis und Aloe
Hilft bei trockener Haut durch Glycerin, Betain, Aloe, Fructosemolekülen, Milchsäure etc.
Für sensitive Haut geeignet durch Kokosöl, Ringelblumenextrakt, Johanniskraut und Zitronensäure-Salz
Für Welpen geeignet
Wirksam gegen Bakterien und Pilze durch Kaliumlactat und Mandarinenöl
Sorgt für leichte Kämmbarkeit dank Meersalz, Extrakt aus Rübenwurzeln und MultiMoist CLR
Entzündungshemmend und heilungsfördernd durch Kamille

andere Hundeshampoos

oft mit Wasser aufgefüllt
pro Anwendung mehr Produkt nötig
es wird schnell neues Shampoo benötigt
oft nur kosmetischer Effekt
kann durch kritische Inhaltsstoffe Juckreiz auslösen
trocknet die Haut oft aus
irritieren empfindliche Hundehaut oft
durch kritische Inhaltsstoffe sind oft spezielle Produkte erforderlich
oft künstliche Inhaltsstoffe
oft mit Silikonen
oft künstliche Inhaltsstoffe

Anwendung
Unsere Pflegeempfehlung für ein entspanntes Hundebad:
Zunächst muss das Fell deines Hundes mit handwarmem Wasser durchnässt werden. Beginne damit am besten bei den Pfoten und gehe mit dem Wasserstrahl dann langsam höher in Richtung Kopf. Im Bereich der Augen, Nase und Ohren solltest du äusserste Vorsicht walten lassen. Dein Hund könnte hier sehr empfindlich reagieren.
Ist das Fell ausreichend nass, massiere das Hundeshampoo vorsichtig ein und spüle es anschliessend gründlich ausspülen. Bei starker Verschmutzung kann der Vorgang wiederholt werden.
Trockne deinen Schatz zum Abschluss gut ab und versuche dabei, möglichst viel Wasser aus dem Fell zu frottieren.

Bewährter Tipp aus dem Alltagsleben mit Hund:
Lege deinem Hund sofort nach dem Abspülen ein grosses Handtuch über den Rücken. So kannst du seinen unbändigen Drang sich zu schütteln (und dadurch im gesamten Badezimmer Wasser zu verteilen) bändigen. 
Achtung: Das DENCA IBIZA Hundeshampoo ist nur für den äusseren Gebrauch gedacht. Bei Kontakt mit Augen oder Mund diese gründlich ausspülen.
Natürliches Shampoo wie das DENCA IBIZA Hundeshampoo kaufen ist der perfekte erste Schritt, hier findest du weitere Tipps zur Hundepflege!
Ingredients
Our ingredients in neutral, mandarin and almond:
Aqua, Decyl Glucoside, Sodium Coco-Sulfate, Pentylene Glycol, Coco-Glucoside, Zinc Ricinoleate, Glycerin, Heptyl Glucoside, Tetrasodium Glutamate Diacetate, Betaine, Xanthan Gum, Fructooligosaccharides, Beta Vulgaris Extract, Aloe Arborescens Leaf Juice, Cocos Nucifera Oil, Propanediol , Melia Azadirachta Seed Oil, Citric Acid, Sea Salt, Potassium Lactate, Sodium Citrate, Lactic Acid, Calendula Officinalis Flower Extract, Chamomilla Recutita Flower Extract, Hamamelis Virginiana Leaf Extract
Additionally in neutral: Hypericum Perforatum Extract, Arginine
Additionally in Mandarin: Citrus Nobilis Oil, Limonene, Hypericum Perforatum Extract
Additionally in Almond: Parfum, Benzaldehyde, Perforatum Extract, Benzyl Alcohol, Heliotropine, Benzyl Salicylate, Cinnamal, Hypericum
You can find more information about the ingredients in our Dog Knowledge category.